News
09.2015
NASA INSIGHT (Interior Exploration using Seismic Investigations, Geodesy and Heat Transport)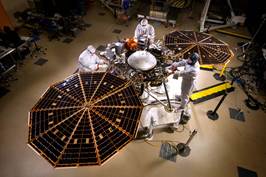 The testing of the Mars Lander for the InSight Project is underway at Lockheed Martin in Denver, USA. This next NASA mission to the Red Planet is scheduled to launch in March 2016. The spacecraft will lift off from the Vandenberg Air Force Base in California, and land on Mars about six months later.
InSight will be the first mission devoted to understanding the interior structure of Mars. Examining the planet's deep interior could reveal clues about how all rocky planets, including Earth, formed and evolved. The current testing will help to ensure InSight can operate in and survive deep space travel and the harsh conditions of the Martian surface.

The Swiss contribution consists of the acquisition and control electronics for the seismometer instrument, called SEIS. It was delivered in March 2015 to CNES (Centre National d'Etude Spatiale) in Toulouse, France for SEIS instrument integration and test. The electronics is specified by the AEIL group and developed by the Syderal SA in close collaboration with AEIL, in the frame of ESA-Prodex programme. Syderal is a Swiss company specialized in electronics for space and located in Gals (BE).
For more information see following links:
http://www.nasa.gov/mission_pages/insight/main/index.html
http://mars.nasa.gov/participate/send-your-name/insight
http://insight.jpl.nasa.gov/home.cfm
http://www.seismo.ethz.ch/research/groups/alrt/projects/insight
09.2015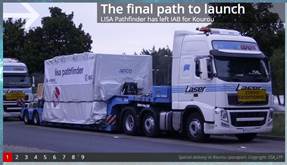 Beginning of September the LISA Pathfinder space craft has left the IAB test facility in Munich, Germany for Kourou, Europe's Spaceport situated in the northeast of South America in French Guiana.
LISA Pathfinder is the precursor mission for LISA, the Laser Interferometer Space Antenna. It will prepare the way for future missions by testing in flight the very concept of gravitational wave detection: it will put two test masses in a near-perfect gravitational free-fall, and then control and measure their motion with unprecedented accuracy.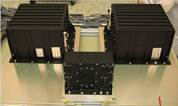 The Swiss contribution consists of the Inertial Sensor Front-End Electronics (IS FEE). It was already delivered in December 2009 to Astrium Friedrichshafen (now Airbus Defence and Space). The electronics is specified by AEIL in collaboration with University of Trento, Italy, and developed by RUAG Space, Zurich and HES-SO, Sion (Haute Ecole Spécialisée de Suisse Occidentale), in the frame of the ESA-Prodex programme.
For more information see following links:
http://www.esa.int/Our_Activities/Space_Science/LISA_Pathfinder_overview
http://sci.esa.int/lisa-pathfinder
https://www.elisascience.org
08.2012
PASADENA, Calif. -- NASA has selected a new mission, set to launch in 2016, that will take the first look into the deep interior of Mars to see why the Red Planet evolved so differently from Earth as one of our solar system's rocky planets.
InSight is the 12th selection in NASA's series of Discovery-class missions. Created in 1992, the Discovery Program sponsors frequent, cost-capped solar system exploration missions with highly focused scientific goals. NASA requested Discovery mission proposals in June 2010 and received 28. InSight was one of three proposed missions selected in May 2011 for funding to conduct preliminary design studies and analyses. The other two proposals were for missions to a comet and Saturn's moon Titan.
06.2011
Last year, AEIL participated in three different mission proposals in response to the NASA Discovery 2010 Announcement of Opportunity:
• InSight (Interior Exploration using Seismic Investigations, Geodesy and Heat Transport) mission to Mars,
• LUNETTE (two-lander mission to Moon) and
• BASIX (Binary Asteroid in-situ Explorer)
InSight was selected out of 28 submitted mission proposals along with two other proposals for a Concept Study (Phase A)! Our contributions are the acquisition and power conditioning electronics for the SEIS instrument, the partners are the same as in Netlander and ExoMars (IPGP for the VBB sensors, Imperial College for the SP sensors, Max-Plank-Institut für Solarsysteme for the deployment structure).
05.2011
The LISA GRS project (full project name: GRS FRONT END ELECTRONICS CHARACTERIZATION FOR LISA) is now kicked-off. The project will last 2 years. We are subcontractor of RUAG-Space in this ESA funded project, which is a study in the frame of ESA's Science Core Technology Programme (CTP). We are responsible for an ultra-stable voltage reference and the test and verification environment including a test mass simulator.